Professional Ventilation Services in Twin Falls, ID
Air Quality Services was opened in June 2000 by Gary Sipe. It is the premier air ventilation system cleaning company in Southern Idaho. It is the one that people trust the most-and for good reason! Having looked for just the right business opportunity in the Magic Valley for many years, Gary researched the air quality industry and knew it was a business he could believe in, and to which he could bring the level of professionalism he considers to be so important.
With more than eight years working in the refrigeration and HVAC industries, Gary's knowledge of air handling systems is critical to the success of Air Quality Services.
We are a local company, not a franchise, which allows us to make certain the job is done correctly. We have cleaned more than 8000 systems and we recognize that each one is unique. We have the expertise to handle your individual situation and to give you the superior service you need.
Professionalism and perfectionism dictate every aspect of our business, from scheduling to job performance to follow-up and it is something that all of us strive to attain each day.
We care about the quality of our work (it's right there in our name!) and believe that you get what you pay for!
This philosophy is apparent first and foremost in our equipment. While other companies in the industry use under-powered shop-vacs, carpet cleaning equipment or equipment that is 40+ years old, our state-of-the-art truck-mounted Power-Vac system can easily deal with jobs that the competition simply cannot handle. Size and speed matter and air treatment technology have come so far in the last two decades that out-of-date or undersized equipment simply cannot compete. We make sure our state-of-the-art equipment meets the highest standards to do the most thorough cleaning available.
But beyond your property, we also respect your time. We show up on time for our appointments, but the time we actually spend at your place is only half the picture. We believe that our business relationship with you is dependent on good communication. After you schedule an appointment with us, we call you the day before to confirm your appointment.
If you need to leave work to meet us at your home, we call you before we arrive so you have time to get there – none of this four-hour window-of-waiting that other service companies require! And if for some reason we are running late (which happens, and sometimes just can't be avoided with service work), we call you to let you know. Once the job is done, we follow-up afterward to make sure you're happy with the results and that everything is as you expected.
Another way we offer superior service is in our strive for perfection. Many operators, especially those with underpowered equipment, will get some of the dust and debris out of your air system. Unfortunately, not only are they leaving you with a system that hasn't been properly cleaned, but they're not looking at the big picture.
We can recognize issues with your system and bring them to your attention. Uninsulated, damaged or disconnected ducts, damaged blowers, cracked heat exchangers-these are some of the problems that we find in the course of the thoroughness of our cleaning. We don't profit from this part of our job, it is just part of our extensive service. These are all items that homeowners would not be aware of, but that can have a detrimental effect on your system, your heating/cooling costs, and your health!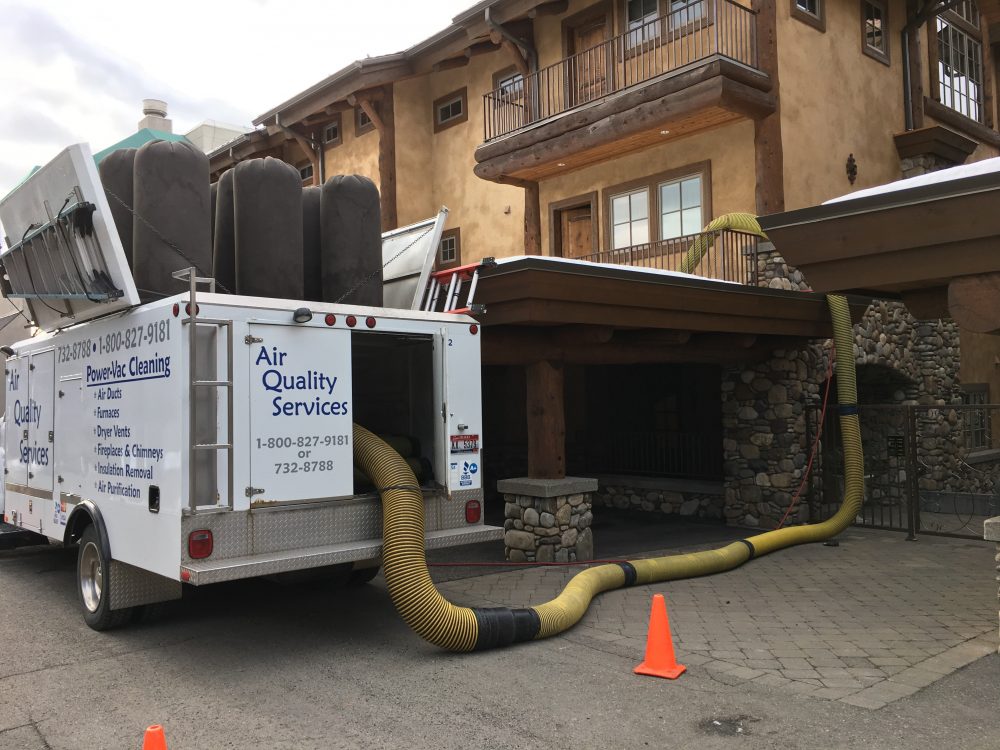 Get Started On Your Cleaning Today
Many clients have asked how we began working in this industry in the first place, and it's a story Gary enjoys telling.
In February of 2000, Gary had three different people mention air duct cleaning to him – people who had no connection to each other.
The first was a friend who had moved to another city and asked Gary to come to see his new house. Gary replied that he couldn't stay there because they had a cat and he's allergic to it. The friend mentioned that Gary's allergies wouldn't be an issue because they had recently had their air ducts cleaned and the friend had been able to stop taking his own allergy medication.
A couple of days later, Gary and his father, an engineer in the refrigeration industry, were discussing industry trends. His dad mentioned that indoor air quality had become a major issue and that air duct cleaning and air treatment was a rapidly growing sector.
Then, Gary and a friend were talking about what they wanted to do in the coming years and the friend mentioned that he had been looking at information about the air cleaning industry.
After these conversations, Gary decided to research the air quality industry. A couple of weeks later, Gary and his father took the opportunity to visit the NADCA (National Air Duct Cleaners Association) convention in Arizona. Gary was convinced that this truly was a growing sector and a service that was sorely needed in Southern Idaho.
Gary began his research and training to become the best possible air duct cleaner. A man he had met at the convention became his mentor. Gary then trained at his location, purchased state-of-the-art equipment and went to work. He and his crew have since cleaned over 8000 furnace systems!


513 Minidoka Ave
PO Box 883
Twin Falls, Idaho 83303